This post was most recently updated on November 30th, 2018
I believe that you have a strong intention of becoming a mother. Otherwise, you wouldn't attract to this page. I could clearly feel your determination and foresee your motherhood. This blog post will answer your long unanswered question " Why my fertility treatment is not working"? ….
I have been repeatedly using the following analogy to describe the modern treatment.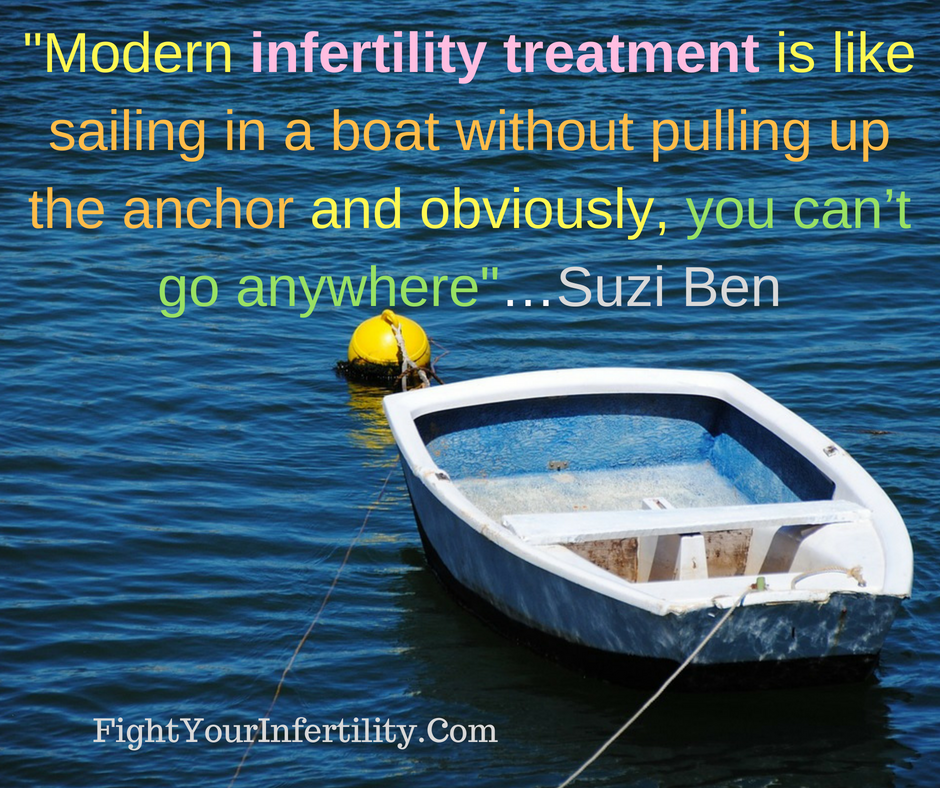 Please read this analogy…
"Modern treatment is like sailing in a boat without pulling up the anchor and obviously, you can't go anywhere…" Suzi Ben
First, you need to understand what I'm trying to convey through this analogy. This will help you understand the limitations of the modern medicine when treating the chronic diseases.
When I say sailing the boat what I'm referring here is about your conscious mind and its efforts to get pregnancy. Your conscious mind is thinking that without becoming a mother your life will be incomplete and therefore you are trying the modern treatment.
The anchor I have referred above is your subconscious mind.
Your thoughts, emotions and actions are mostly driven by your subconscious mind. When your subconscious mind believes that something is wrong in your body and it is  difficult for you to get pregnant, so the chances of getting pregnant reduced considerably… (This is what we refer as "nocebo effect")
So, first and foremost thing you need to do is reprogram your wrong beliefs and change the subconscious mind. Without doing this no matter what you do with your conscious mind, you won't see significant results.
Simply!
Your subconscious mind and your conscious mind are going in two opposite directions. While your conscious mind desiring to get pregnancy, your subconscious mind believing that something is wrong with your body and getting pregnancy may be difficult. This is the real reason why getting pregnancy becomes very hard for you..
Now please read the analogy once again…
Modern treatment (Your conscious mind efforts) is like sailing in a boat (taking the treatment) without pulling up the anchor (without changing your subconscious mind belief that something is wrong with your body) and obviously, you can't go anywhere (getting pregnancy is difficult for you)…Suzi Ben
And this is my promise…
My latest book "Mystic Body and magic Cycle" is a "five step hormone balance plan" aimed at reprogramming your subconscious mind and changing your redundant beliefs about yourself and your body so that you will experience the placebo effect i.e. the power of belief and expectation is enhanced  and restore your body balance (i.e. Restoring your body homeostasis)…
If you follow our five Step "hormone balancing plan" you can activate the self healing capacity of your body and as result the chance of pregnant is multiplied. This is by far the easiest and simple way to fulfill the dream of achieving pregnancy miraculously. In fact, there is no miracle. You are addressing the root cause of your fertility problem.
It is the time for you to counter nocebo effect and protect your fertility before it is too late.
Want you say goodbye to all your hormonal problems and revive your fertility?
Click here to learn more and discover how you can end your infertility struggle!
---
"Life Changing" Blog Posts
"Fertility protecting" blog posts
"Fertility Enhancing" Blog Posts
What people are saying about us…
Thank you for sharing your knowledge on how to become pregnant faster.from the tips u shared,advices and secrets for the successful pregnancy.
I'm now less than 3 months pregnant for our first baby .i am turning 36 years old this month and we are very much happy with my husband.
Again thank u very much and may God bless you always.
– Maricris Postrado
---
Am so glad that I found you. Thank u so much for the information…
Now all I do is smile because I now know the cause. Am a new person now. The words I hear my with is ultrasound and surgery he did not tell me how I should address the problem.
You are a wonderful person am glad I found you.
– Sherron Williams